Don't Just Take Our Word For It
"We've seen a reduction in the cost per lead of nearly 300%. We've doubled our monthly average lead count."

Manufacturing Data with HubSpot + EIM
Sync & Clean Customer Data

Make it easier than ever for your systems to work together.
1,000+ Integrations
Data model overview
Data quality tools
Data sync (including ERP)
Data deduplication
Sync health
Property validations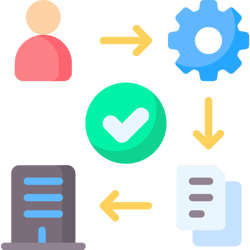 Automate Every Process
Streamline your business operations to enhance the customer experience.
Programmable automation
Webhooks
Scheduled triggers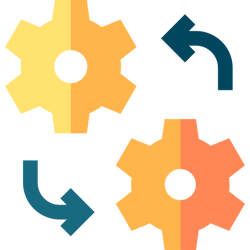 Curate Data for Reporting
Enable fast, easy, and consistent reporting for your whole company.
Datasets
Snowflake data share
Custom Report Builder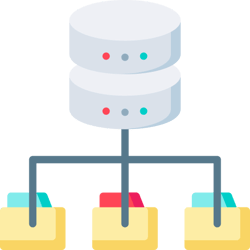 Unite all your marketing tools and data in a single, streamlined hub.

Many marketers find themselves in a state of disconnection, facing the challenges of constantly evolving channels that make it difficult to connect with customers. Additionally, the existence of silos within organizations hinders team collaboration, while disparate systems pose obstacles in connecting and utilizing data effectively. However, there is a solution.
Introducing Marketing Hub, the ultimate solution for connected marketing. This powerful platform seamlessly integrates your tools and experiences, fostering unity among teams. Moreover, it provides a solid foundation to connect and leverage your data efficiently. With Marketing Hub, you can build bridges that lead to deeper connections with your customers, resulting in improved outcomes for your business.
Drive Revenue
Email campaigns
Ad campaigns
Landing pages
Live chat
Social tools
Forms
SEO
Save Time & Resources
Contact management
Marketing automation
AI content assistant
Segmentation tools
Business units
ERP & Salesforce integration
Campaign management
A/B testing
Dynamic content
Optimize Your Investment
Reporting dashboards
Attribution reporting
Custom objects
Web traffic analysis
Customer journey analytics
Campaign reporting
Custom behavioral events
Supercharge your sales process.
What if you had everything you needed to sell, all in one place? Sales Hub supercharges your sales process so you can find, track, and close deals all in one powerful, easy-to-use platform. Suddenly, making deals is no big deal and you're freed up to focus on what really matters: your customers. Start relevant, contextual conversations with HubSpot's sales engagement tools and effortlessly convert prospects.
No more guessing the next best step. Minimize distractions and keep your prospecting reps organized, efficient, and effective throughout the day so they can focus on building a qualified, high-converting pipeline.
Prospect Smarter
Calling
Email sequences
Gmail & Outlook integration
Live chat
Task automation
Email templates & snippets
Prospecting workspace
Email tracking & notifications
Predictive lead scoring
Accelerate Revenue Growth
Pipeline management
Meeting scheduling
Deal automation
Customizable quotes & CPQ
Sales playbooks
Deal & Company scoring
Scale Insightfully
Forecasting & goals
Recurring revenue tracking
Reporting & analytics
Conversation intelligence
Rep productivity performance
Coaching playlists
Your customers expect better service.
In today's fast-paced world, customers have high expectations for quick resolutions and personalized service that is available 24/7 through various channels. However, many customer service representatives find themselves overwhelmed as they struggle to meet these increasing demands due to scattered tools and data.
That's where Service Hub comes in. By connecting all your customer service data and channels onto one CRM platform, Service Hub empowers you to effortlessly support, retain, and grow your customer base. The outcome? Enhanced customer service management and exceptionally satisfied customers throughout their entire journey.
Deepen Customer Relationship
Customer portal
Calling
Knowledge base
Live chat
Omnichannel messaging
Customer health scores
Drive Team Efficiency
Ticketing
Help desk
AI content assistant (beta)
Service analytics
Ticket & task automation
Mobile inbox
SLA's
Connect Service to the Front Office
Shared inboxes
Playbooks
Customer service surveys
Custom surveys
Conversation intelligence
Custom reporting
Powerful websites you can manage yourself.
Harness the full potential of our cutting-edge content management system to effortlessly design and personalize website pages for every single visitor. Our system is meticulously fine-tuned for optimal conversion rates on all devices, granting you the flexibility to depend on developers as much or as little as you prefer.
Create an Impressive Website with Ease
Drag-and-drop website builder
Fully integrated CRM
100+ themes
Dynamic co
Personalized Experiences for Every Visitor
Personalized content
Memberships
AI content assistant (beta)
SEO recommendations
Advanced analytics & Reporting
A/B testing
Content attribution
Effortlessly Scale & Govern
Fast & Reliable premium website hosting
Content approvals
24/7 Enterprise-class security
Access restrictions
Privacy & compliance
Website domain management
To grow better, you need to run better.
As businesses expand and face inevitable challenges, their existing systems often struggle to keep pace. This leads to teams developing their own processes, resulting in data isolation and decreased efficiency. To achieve remarkable growth, operations teams require tools that prioritize their role in driving expansion, rather than being an afterthought.
Whether you are a part of a central RevOps team or responsible for operations in a specific department, Operations Hub offers a comprehensive toolkit that seamlessly integrates applications, streamlines and enhances customer data, and automates essential business processes within a centralized CRM platform. The outcome? A highly efficient, well-aligned, and adaptable organization that consistently delivers a seamless customer experience.
Sync & Clean Customer Data
1,000+ Integrations
Data model overview
Data quality tools
Data sync (including ERP)
Data deduplication
Sync health
Property validations
Automate Every Process
Programmable automation
Webhooks
Scheduled triggers
Customize to Reflect Your Business
Datasets
Snowflake data share
Advanced data calculations
An easy-to-use B2B commerce suite and customer platform.
Experience the convenience of running your entire commerce process on HubSpot's Smart CRM features. With all your quoting, payments, reporting, and customer data seamlessly integrated into one platform, you'll gain invaluable insights and automation to fuel your growth. Take a deep breath and relax, because commerce has never been this effortless.
Get Paid Faster
Invoicing
Payment links
Quotes
Increase Revenue
Subscriptions
B2B checkout
Flexible payment processing
Save Time
Custom billing automation
Revenue reporting
QuickBooks integration
Manufacturers We've Helped